Booking a boudoir or glamour photo shoot is an investment in yourself. As the entire shoot develops - from the very first meeting where we envision your session and begin planning your shoot, to the final reveal of your finished artwork - you are learning to love yourself. And we think that's pretty darn important.
( I know, kind of sappy right!? But seriously...)
We are kind of obsessed with cultivating a community of women who are learning to love themselves and becoming more and more confident in their own skin. But, what we also know - being totally incredibly candidly fabulous on camera aint easy . That's where we come in. If you are looking for a boudoir or glamour photographer in the Phoenix, Tempe, Scottsdale area that "gets it" and can honest to goodness produce photos you will love, keep reading...
some things We Think you should know about us.
When I envisioned opening a boutique portrait studio in Phoenix, I knew I wanted to photograph women in an intimate and empowering way. I wanted to create a private and safe place where ANY woman could feel comfortable and confident being herself, finding her wild, and embracing her femininity. I thought, fine art boudoir should capture the essence of a woman feeling her most confident while maintaining her dignity and celebrating her sexuality in a tasteful and artistic way. In a nutshell,
Our aim is to empower women and help them see themselves as sexy as they are.
You hear that? As sexy as you ARE. Regardless if you are coming into the studio for a model portfolio, grooms gift, or a sexy surprise for a significant other, above everything we believe that you should feel proud and comfortable during your photo shoot with us and your boudoir photos should be a reflection of you looking and feeling your most confident.
Every shoot starts with the intention to create a tasteful collection of images that you love. Want to have images like these? Not sure if you are glamorous enough? Please, do yourself a favor and start believing this can be you - right now.
Honestly, I fall in love with photographing women all over again every time I get behind the camera, because every woman I meet is "glamorous" in her own right (how she laughs, how she blushes at the camera, how she dances when no ones watching, and how her eyes light up and she falls in love with herself when she sees her boudoir photos for the very first time).
Shes evolves into the best version of herself -
celebrating her authenticity
in the raw,
perfectly imperfect,
and unapologetically beautiful.
Boudoir is a labor of love.
It is connection, romance, self-acceptance,
raw and untamed emotion,
a collection of intimate moments as fine art images that inspire you.
At The Bella Jade Collection our all female team is dedicated to ensuring that every woman can walk away from this experience having seen themselves in a new light, with re-newed confidence, and an even more positive relationship with herself and her body. We want you to look back on your boudoir photos and remember that you (yes, you!) are one pretty darn sexy, glamourous, and amazing person to be.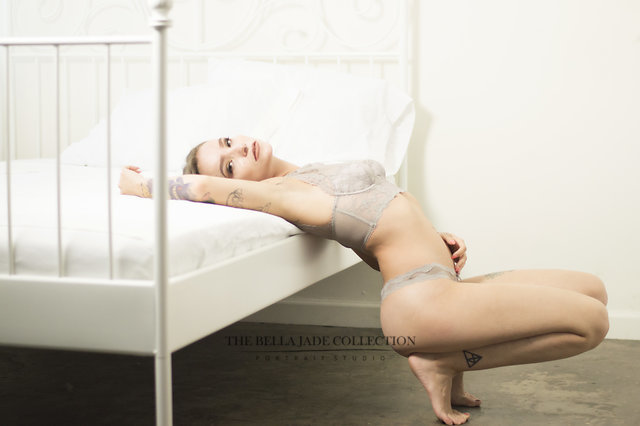 Our boutique portrait studio is located in Uptown Arts District in Phoenix, Arizona serving the Phoenix, Scottsdale, Tempe, Chandler area where we offer glamour shoots, boudoir photography, intimate maternity sessions, bridal and couples boudoir. If you are considering a sexy photo shoot or glamour session in Phoenix, we would love to invite you to learn more about our approach to women's portraiture and how we can tailor a shoot just for you. Contact your Phoenix Boudoir photographer here to learn more and schedule a complimentary studio tour. You can also stay connected by joining our growing boudoir community on Facebook here. I can not wait to share this experience with you.